Specimen Exhibition Room at the Faculty of Veterinary Medicine, Hokkaido University (Lecture-building 1F)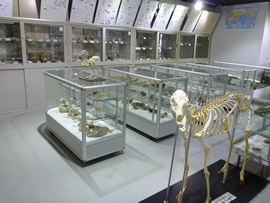 Did you know that precious, academically valuable specimens have been collected for research and education on veterinary medicine and are stored and displayed in the specimen exhibition room of the Hokkaido University Faculty of Veterinary Medicine? The exhibition room showcases specimens related to research and education in diverse disciplines, such as anatomy, pathology, wildlife zoology, and parasitology. Let's consider some of the more prominent exhibits.
At the entrance to the exhibition room, you're greeted by the complete skeleton of a large cow, which is displayed as an anatomical specimen. On the wall nearby, detailed anatomical drawings of a horse's entire body can be seen. A glass case displays textbooks, bound in Japanese style, on veterinary anatomy and surgery. These textbooks were published in the early Meiji era (around 1870), when veterinarian training was just starting in Japan. The back part of the case has a host of organs embedded in silicon by a technique called plastination, which enables organs to retain the softness and natural color they had when they were in living animals. In addition to these specimens, a number of precious large skeletal preparations of the Graduate School of Veterinary Medicine are displayed in the special exhibition room on the second floor of the Hokkaido University Museum, a museum that adjoins the School of Science near the center of the campus. Why not visit the museum? Skeletal specimens of a hippopotamus, a lion and other large animals are there to welcome you.
Next, we'd like to introduce a specimen that relates to a Nobel Prize. It's displayed as a pathology specimen at the specimen exhibition room of the Graduate School of Veterinary Medicine. The specimen is a rabbit's ear in which cancer was artificially induced in experiments conducted by Professor Katsusaburo Yamagiwa (Tokyo Imperial University) and Professor Koichi Ichikawa (later a veterinary pathology professor of Hokkaido Imperial University). Both professors were nominated for the Nobel Prize in Physiology or Medicine four times after 1925 for their remarkable research achievements. They were the first in the world to experimentally demonstrate that repeated application of coal tar to a rabbit's ear could induce cancer (skin cancer) artificially. Alongside the ear specimen are displayed a German microscope (quite expensive) used in the experiments of those days and research papers on artificially induced cancer that were published in German.
In the glass case next to them are specimens related to wild animals, such as the antlers of wild deer, rare kidneys of a sea lion and a Pacific white-sided dolphin, and the kidney of a large Indian elephant. In the corner near the entrance stands a complete skeletal specimen of a bear. These specimens constitute precious exhibition specimens, supporting research on vital themes such as environmental conservation and the coexistence of humans and wild animals.
At the back of the exhibition room is a world of parasites, where various specimens of threadworms, tapeworms, liver flukes and external parasites such as ticks are displayed close together. This shows that parasitology is an important research discipline in veterinary science.
Practical education, that is, understanding real species through naked-eye observation, is still very important in research and education on veterinary medicine. Exhibition specimens include template specimens that show blood vessels and joint cavities, and detailed anatomical drawings, as well as the skeletal specimens mentioned above, immersion specimens in glass bottles and plastinated specimens with natural textures. These specimens will be viewable as digital images on the Web in the near future. Why not visit the specimen exhibition room of the Graduate School of Veterinary Medicine, Hokkaido University? You're to be fascinated by the numerous animal exhibition specimens.
Veterinary Medicine Specimen Facility Steering Committee
Hours: 8:00 to 18:00 on weekdays (Free admission)